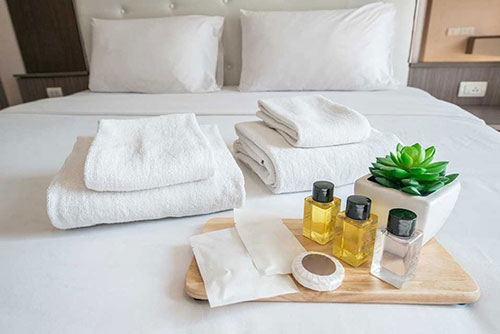 Hotel room supplies make or break a guest's stay, and they may be the reason they provide great feedback or book in the first place. Preparing the best room for their visitors is one of the most important jobs of the housekeeping team. If you're in the hospitality industry, your motto should be "making the visitors as comfortable as possible". All the visitor's needs should be offered to supply a feeling of warmth to the guests.
The housekeeping staff always load the rooms with hotel room supplies which the guests use throughout their stay at the hotel. This is done to make it easier for guests to travel by allowing them to carry fewer burdens.
Some things accessible at one hotel may not be available in another due to various hotel restrictions. Aside from the items that are provided, the list of supplies may vary depending on the room the visitors pick. For example, a deluxe room may not have the same facilities as a suite. The housekeeping team is responsible for ensuring that the hotel room supplies are in good working order so that visitors may utilize them when they arrive.
Some of the hotel and guest room supplies are essential.
Things all hotels should have are:
Furniture: Of course, a room isn't complete without some furnishings. A basic hotel room must include the following items: a bed, chairs, bedside table, closet, and dressing table. To further assist visitors, some rooms have a center table, writing table, and a magazine holder.
Bedding: This includes everything from mattresses to pillow covers, blankets, pillows, and bedsheets, as well as anything else needed for a good night's sleep.
Bedside Table Devices: A telephone is on the bedside table, along with a list of intercom numbers, which includes the reception, laundry, and restaurant numbers.
Centre Table Supplies: The pricing cards for the many services available at the hotel are typically included with the center table supplies. Room service, a fitness centre, a spa, and other amenities are all included.
Hospitality Tray: This is a tray that contains everything you'll need to prepare a drink. Tea, coffee, cocoa powder, milk powder, and sugar are examples of this. Some hotels also provide little sachets of condiments such as salt and pepper to their guests. Before renting the room to the visitor, this tray must be checked for refilling.
Mini-Bar Supplies: If you requested a mini-bar at check-in, your hotel room will contain a small refrigerator equipped with soft drinks, soda, alcohol, and ice cubes, allowing you to prepare a drink while staying in your room. It also includes a few extra personal portions like cashew nuts, salted almonds, chips, and other savory treats.
Writing Desk Supplies: A pencil, eraser, note pad, brochures, and a reduced list of all the historical and other attractions that travelers can see are among the hotel room items. Guests may also browse travel and everyday publications in some hotels.
Every hotel room includes an attached bathroom which is a must for guests. Shower attachments, bathtubs, soap dispensers, towels, bathmats, mirrors, slippers, garbage bins, toiletries, and other amenities are found in the bathroom. Above all, ensure that the tubs and showers are in good functioning order before allowing guests to use them.
Choosing the perfect supplies for your hotel room will please your customers and will help your hotel to grow. Check out our wide range of hotel room necessities, room accessories, and bathroom supplies.