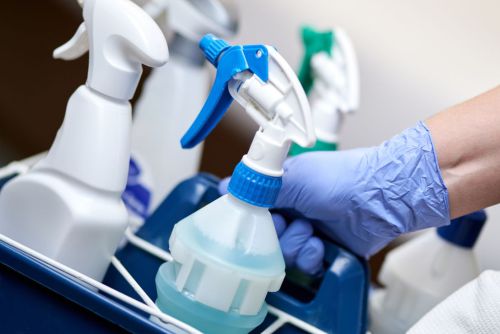 Maintaining a clean and safe environment for patients and staff is of utmost importance in healthcare facilities across Canada. To achieve this, they rely on a range of essential supplies, including cleaning materials and personal protective equipment (PPE). Cleaning supplies like disinfectants, detergents, and sanitizers are essential to keep surfaces clean and prevent the spread of infections. PPE such as masks, gloves, gowns, and face shields are necessary to protect healthcare workers from exposure to infectious diseases. Other important supplies include medical equipment like diagnostic tools and surgical instruments and patient care products like bandages, wound dressings, and catheters. The right products are crucial for the smooth functioning of these facilities and for ensuring the well-being of patients and staff alike.
Let's explore the world of essential healthcare supplies.
Cleaning Supplies & Equipment for Healthcare Facilities Canada
When it comes to maintaining cleanliness in healthcare facilities, high-quality Cleaning Supplies are non-negotiable. It not only creates a pleasant environment but also helps prevent the spread of infections.
A wide range of Cleaning Supplies & Equipment designed specifically for the specific needs of healthcare facilities include:
Cleansers, Polishers, and Detergents: These products ensure thorough cleaning and disinfection, maintaining a pristine environment for patient care.
Vacuums: Specially designed vacuums help remove dust and allergens, promoting clean and healthy air.
Floor Cleaning Supplies: Properly maintained floors reduce slip and fall risks, ensuring safety for all.
Entrance Mats: These mats trap dirt and moisture, preventing them from being tracked through the facility, thus reducing the risk of contamination.
Wiping and Dusting Tools: Essential for cleaning surfaces and equipment, these tools help prevent the buildup of harmful pathogens.
What Types of Housekeeping Equipment Are Used to Maintain the Cleanliness and Condition of Your Facility?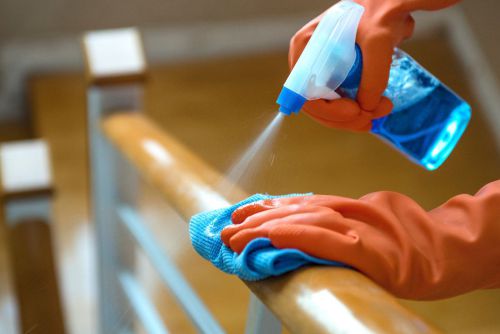 An orderly and well-maintained healthcare facility not only promotes efficiency but also ensures the staff safety and comfort of patients.
The healthcare industry has unique requirements when it comes to housekeeping equipment. A wide range of specialized tools and supplies are available to meet these needs. Some examples include microfiber cleaning cloths, which are designed to trap and remove bacteria and other pathogens. HEPA vacuums can help reduce the spread of airborne particles, while electrostatic sprayers can disinfect surfaces quickly and efficiently. Additionally, odor-neutralizing products, such as air fresheners and deodorizers, can help create a clean and pleasant environment for patients and staff alike. By utilizing these specialized tools and supplies, medical facilities can maintain high levels of cleanliness and ensure the safety of their patients and staff.
What is the equipment and supplies for cleaning?
Recycling Systems: Promoting sustainability while maintaining a clean environment.
Cigarette Collectors: Ensuring that smoking areas remain tidy and safe.
Odor Control Systems: Reducing unpleasant odors that can affect the patient's experience.
Utility Carts: Simplifying the transport of supplies and maintaining an organized workspace.
Housekeeping and Janitor Carts: Equipped with compartments for various cleaning tools and supplies.
Trash Can Liners: Ensuring hygienic disposal of waste and minimizing the risk of leaks.
Waste Containers: Proper waste management is critical in Care facilities settings to prevent the spread of infections.
Ensuring Safety using Personal Protective Equipment (PPE Supplies)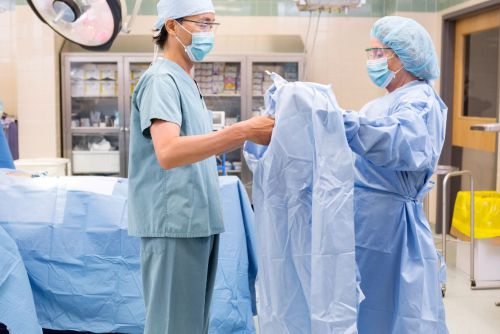 Ensuring the safety of clinic workers and patients is of utmost importance. Personal Protective Equipment (PPE) plays a crucial role in reducing the likelihood of being exposed to infections. The selection of PPE supplies comprises a variety of options.
Isolation Gowns and Coveralls: Essential for infection control during procedures and patient care.
Face Shields and Bouffant Caps: Providing additional protection for the face and hair.
Disposable Face Masks: Reducing the transmission of respiratory infections.
Hand Sanitizers and Dispensers: Promoting hand hygiene among healthcare workers and visitors.
Medical Gloves: Reducing the risk of contamination during patient care.
Protective Shields: Providing an additional barrier in settings where close contact is required.
Disinfectants: Crucial for sanitizing surfaces and equipment.
Goggles: Protecting the eyes from potential splashes and contaminants.
Rubbermaid Hygen Canada-Microfiber Cleaning System-Mold Cleaner, Scrubber
The Rubbermaid Hygen Canada Microfiber Cleaning System is revolutionizing medical centers' maintenance. It has been purposefully crafted to improve infection control and provide exceptional cleaning outcomes, making it an indispensable component of your hygiene protocols. Rubbermaid Hygen Canada is engineered with advanced microfiber technology that effectively removes dirt, bacteria, and other contaminants from surfaces. Its innovative design ensures that the cleaning process is quick, efficient, and safe for both the user and the environment. Furthermore, this system can help reduce costs associated with cleaning supplies, labor, and disposal. Incorporating the Rubbermaid Hygen Microfiber Cleaning System into your facility's maintenance program can enhance its overall cleanliness and create a healthier environment for everyone.
Are Incontinence Products Essential for Patient Comfort?
Incontinence products, including adult diapers, protective underwear, and bed pads, offer specialized care for patients with incontinence. They ensure comfort, absorbency, and odor control, catering to patients' unique needs while supporting caregivers in providing optimal care.
Laundry Bags and Spring Bag Holders
Effective management of laundry is crucial in healthcare establishments. The utilization of laundry bags and spring bag holders serves the purpose of optimizing laundry procedures while upholding hygiene and infection control protocols. Furthermore, these products aid in minimizing damage to laundry equipment. By employing top-notch laundry bags and holders, healthcare facilities can extend the lifespan of their laundry machines and guarantee the thorough cleanliness of their patients' garments.
Peri Wipes and Towels: Ensuring Hygiene and Comfort
In Health institutions, patients' hygiene and comfort are interrelated. To ensure their well-being during their stay, peri wipes and towels are designed to provide gentle care. These products support patient hygiene and maintain a clean environment while also promoting their comfort. Peri wipes and towels are specifically formulated for sensitive areas and are hypoallergenic, making them ideal for use in hospitals and other healthcare facilities. By prioritizing hygiene and comfort, healthcare providers can create an atmosphere that promotes healing and recovery.
Bibs And Gowns for Patient Care
Patient attire plays a significant role in healthcare settings. Bibs and gowns are essential for maintaining cleanliness and preventing cross-contamination during patient care. These products offer reliable protection against spills, stains, and bodily fluids, ensuring that patients remain clean and comfortable throughout their treatment or stay. With adjustable necklines and easy-to-use fasteners, bibs and gowns provide a convenient solution for healthcare professionals while also promoting infection control practices. By investing in high-quality bibs and gowns, healthcare facilities can prioritize patient dignity, hygiene, and safety.
Healthcare Linen: Quality Bedding and Linen Supplies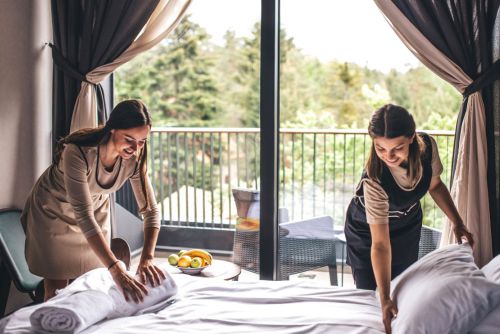 In healthcare settings, patient comfort is of utmost importance, and quality bedding and linen play a crucial role in achieving that. Healthcare linens such as knitted sheets, pillows, mattress and pillow encasements, and bedspreads are used to create a comfortable and restful environment for patients. These linens are specially designed to withstand frequent washing and disinfecting while maintaining their softness and comfort. They also provide a barrier against allergens, dust mites, and other contaminants that can compromise patient health. Investing in high-quality healthcare linens not only promotes patient well-being but also contributes to the overall hygiene standards of the healthcare facility.
Additional cleaning products and tools that may be required include paper towels, carpet cleaner, stainless steel cleaner, wood cleaner, glass cleaner, sponge, tile and grout cleaner, hand broom, dustpan, mop, bucket, and a floor scrubbing brush.
If you have hard surfaces such as wood, tile, cork, or linoleum, you'll require the appropriate tools to ensure they are thoroughly cleaned. The initial step in procuring office supplies for a healthcare facility is to have an employee scheduling a meeting with a cleaning company.
The Importance of Quality Trash Can Liners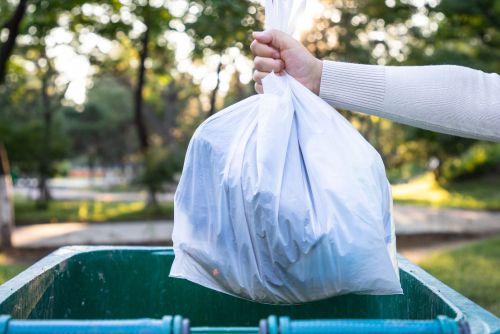 Proper waste management and cleaning equipment are crucial for healthcare facilities, as it ensures a safe and hygienic environment for patients and staff. By using cleaning solutions like durable trash can liners, you can maintain cleanliness and prevent the spread of harmful bacteria and viruses. By investing in quality trash can liners, you can contribute to the overall well-being of everyone in your facility and create a healthier environment for all.
In the world of healthcare, access to high-quality commercial Cleaning Supplies & Equipment is non-negotiable. They are the backbone of maintaining a clean, safe, and efficient environment for patients and healthcare professionals. As a wholesale healthcare supply provider in Canada, we are committed to offering a wide range of essential supplies to meet the diverse needs of healthcare clinics, hospitals, nursing homes, and other facilities.
It is essential to grasp the significance of maintaining pristine interiors, from sparkling fixtures to immaculate flooring. Whether it involves removing stubborn grime and mildew from bathroom tubs or giving carpets a deep clean, a cleaning business equipped with the right machinery, email correspondence, and business software can make all the difference. With the aid of efficient cleaning business software, professionals can efficiently manage appointments, track clients, and even design eye-catching business cards to create a lasting impression. They'll expertly squeegee away the toughest stains, and polish surfaces to perfection, leaving homes looking refreshed and inviting.
By offering our products in both Western Canada and Eastern Canada, we enable you to prioritize the well-being and safety of your patients and staff with cleaning business supplies. Get in touch with us now to discover our wide range of healthcare supplies and enhance the standards of your facility.